Our Reuse Service
Turn your empty jars in in Leiden or Amsterdam! Get a shop discount for every empty jar and we'll reuse the jars. Together we can make an impact!
We have partnered with Parcls in de Pijp in Amsterdam (Ceintuurbaan 11-hs, 1072 ER Amsterdam) to provide the option to reuse and refill empty DIYS Soap product packaging. In Leiden you turn in your jar in our Atelier (Caeciliastraat 88 Leiden). 
When you have used up all the product in your bottles or jars you can return the empty ones to us through Parcls or to our Leiden atelier so that they will be used again. DIYS Soap will wash the jars in our industrial dishwasher upon return and refill them with new product. This service is available to our customers in the Netherlands.
You will receive store credit for returning the product packaging through Parcls, and the equivalent if you return in store. If you return 5 items, this will be a €5 store credit and for 10 it will be €10 store credit. Please note that eligible jars below 30ml will be 50 cents per item.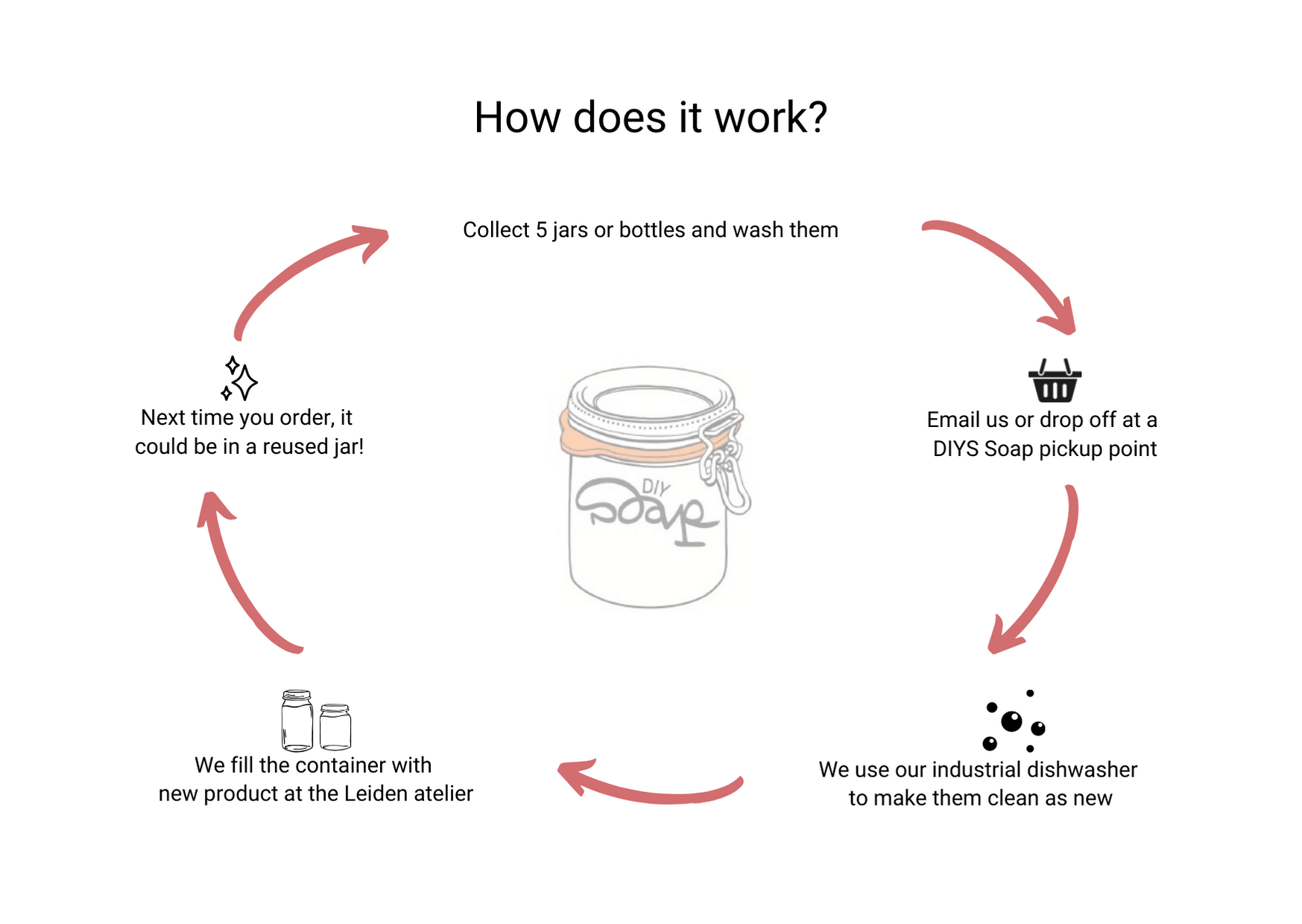 How does it work?
Place item(s) in your cart for purchase and proceed with the order as usual.
Collect 1 or more eligible* empty DIYS Soap jars or bottles, cleaned on the inside, with label still on and put them in a cardboard box or bag.
Reply to order confirmation from

[email protected]

with a short sentence that you would like to return bottles or jars for reuse.
Bring your empty jars to Parcls de Pijp and ask the person at the desk about returning your DIYS Soap jars, they will help you label them and put them in a crate. If you prefer you can bring your empty jars direct to our atelier in Leiden when you pick up your new order.
Within 5 – 7 working days you will receive a code for the store credit.
*Check the individual products listing on our web shop for eligibility for reuse. Not all packaging is able to be fully sanitized for reuse. For our aluminium tins or spray containers we recommend reusing it yourself for travel or at home.  
Thank you for doing your bit to help us close the loop!