Product description
Organic Argan Oil
Restores healthy skin and shiny hair
Suitable for dry and ageing skin
Organic Virgin Moroccan Argan Oil
Organic Argan Oil, 100% pure and of the highest quality. Argan oil has great benefits for the skin. The oil is full of essential fatty acids, vitamin E, and anti-oxidants. This means the oil is very suitable for dry skin and keeps it healthy and shiny. Because of the moisturising properties argan oil helps to firm up the skin and fight wrinkles. Our Organic Argan Oil has a nutty scent and comes from Morocco.
The oil comes in a glass bottle with a dropper so you can easily apply the oil. A little goes a long way!
Content: 50 ml glass bottle with dropper
Argan Oil for your face
Is this the first time you're using argan oil on your face? Then it is best to apply the oil once a day at bedtime. If you like the effects you're seeing and the look and feel of your skin while using the oil, you can apply the oil twice a day. Once in the morning and a second time before going to bed. You can also use the oil underneath a good skincare product or mix with your face cream. This ensures that the skin retains moisture better, the skin barrier can be restored and active substances may penetrate deeper into the skin. Apply one or two drops of the oil to your skin. Massage the oil on your skin so that it has the opportunity to draw deep into your pores. Do not rinse off. Let it dry off into the skin. Once the oil is absorbed into the skin (which is a quick, easy and natural skin process), your skin feels smooth and silky. Argan oil is also very suitable to rub all over the body, not just the face.
Is argan oil suitable for all skin types?
Argan oil is so special because it is suitable for all skin types: oily, normal, dry and mature skin. It's possible that there are people who may be allergic to argan oil, mainly people with nut allergies.
Argan Oil for your hair
Argan oil is also very suitable to repair dry, fragile and damaged hair, making hair healthy and shiny again. Coat your hair once a week with the oil, let it absorb in the hair and rinse again or you can apply a few drops of oil and massage in the hair after every wash. Because the oil is non-greasy it is quickly absorbed by your hair. Making your hair shine again without leaving a greasy layer.  
Argan Oil Benefits
- Essential fatty acids: a powerful moisturizer for skin and effective in the fight against premature skin ageing. 
- Vitamin E: a good nutrient for the skin cells, which prevents ageing of the skin cells.
- Sterols: keeps the cell membranes of the skin cells healthy and reduces inflammation. Sterols also improve the metabolism of the skin.
- Ferulic acid: prevents skin ageing and protects the skin from the harmful effects of free radicals.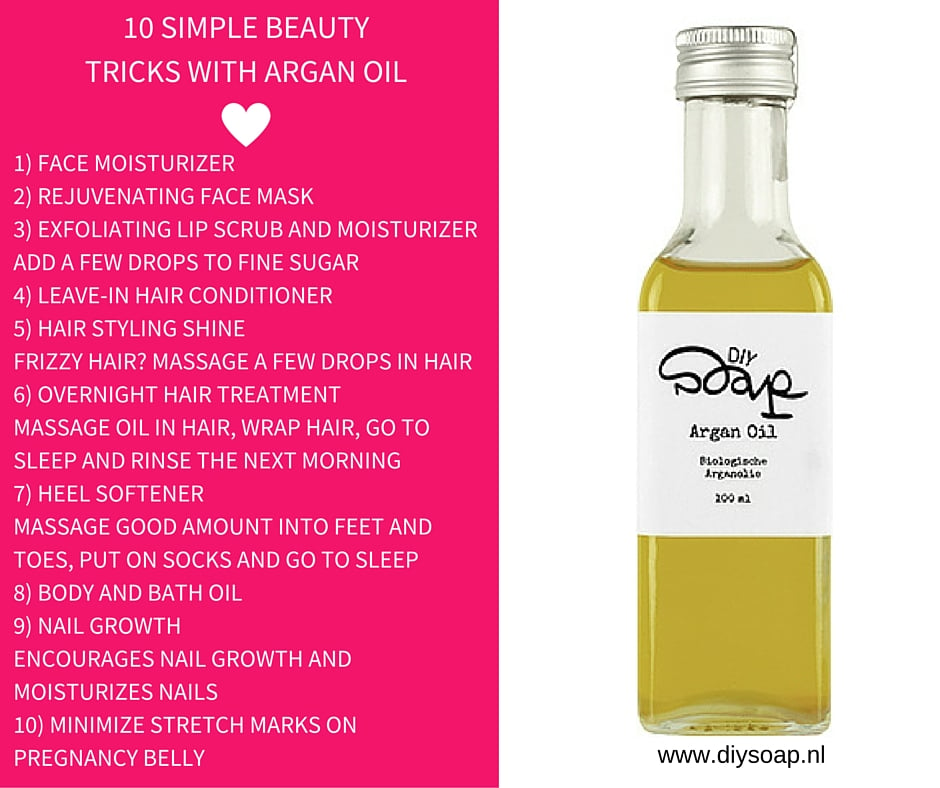 Ingredient: Organic virgin argan oil (Argania spinoza Kernel Oil - cold pressed). Country of origin: Morocco. 
By Lia

25 / Feb / 2020

Mijn haar kan niet meer zonder. Goede kwaliteit olie, ruikt alleen wel een beetje zoals echte pure arganolie kan ruiken.

Ideaal om in huis te hebben. Ik gebruik een paar druppels voor mijn haar, maar ook voor mijn gezicht als ik echt een droge huid heb in de winter.
€29,90