Article number:
E028
Availability:

In stock

(7)
Delivery time:
Ordered before 15.30, next day delivery | In Amsterdam same day delivery | NL €4,95 | BE / DE €5,95 | FR €9,95
Organic Shea Butter
This organic Shea Butter To The Rescue is your lifesaver when you suffer from dry / chapped skin or dry hair. Our Shea Butter is a 100% natural vegetable oil that is organic certified. Shea Butter is rich in vitamins A and E and gentle enough to moisturize the body and face. This butter is very suitable for people with sensitive skin and for baby and children's skin. It is a highly moisturizing and protective butter with mild anti-bacterial and anti-inflammatory properties.
Shea Butter is hard at room temperature and becomes soft when you rub the butter between your hands. Shea Butter is perfect for spreading on damaged or dry spots on your skin or to hydrate the tips of your hair. Because Shea Butter is fairly hard it can be difficult to apply to skin especially in a cold environment.
Our Shea Butter is in a handy glass jar that you can easily carry, so you always have your Shea Butter with you: Shea Butter To The Rescue!
Contents: 100 gr.
Tip: Put a jar of Shea Butter on your desk, which makes it always available if you suffer from dry skin. Also convenient to use and massage through your hair, if you suffer from dry and frizzy hair.
What is Shea Butter?
Raw Shea Butter is extracted from the nuts of the Shea tree. Shea trees grow in the African Savannah. The tree is known as the Tree of Life. Shea butter contains a high content of vitamins A and E and is great to moisturize the skin and promote skin elasticity. In Africa, Shea Butter has been used for centuries for the daily care of skin and hair, but also for the treatment of burns, blemishes, eczema, wrinkles, stretch marks and other minor skin ailments. Our organic Shea Butter comes from Ghana. This refined butter is removed from the typical smell of shea butter, which is often perceived as less pleasant. Want to know more? Then read more about Shea Butter in our blog.
What is Shea Butter Good For?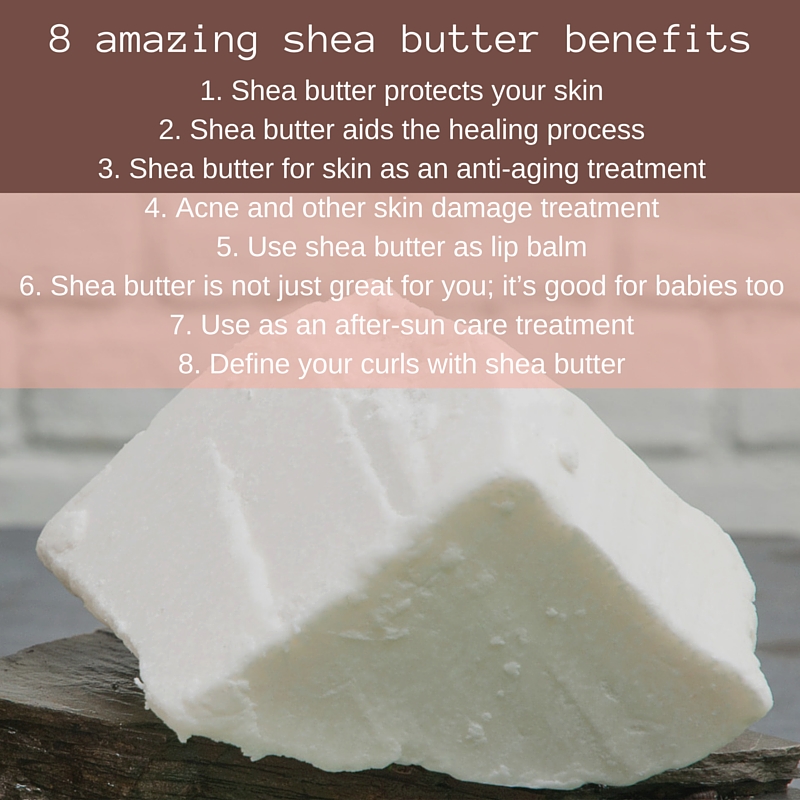 Ingredient
INCI: Butyrospermum Parkii nut butter from Ghana. 
Certified Organic