Original in Dutch by Saskia Gluvers - 21 / Jan / 2021
Shea Butter and DIY Hair Mask
What exactly is Shea Butter and do you already know what Shea Butter can do for your skin? It's also great to use on your face!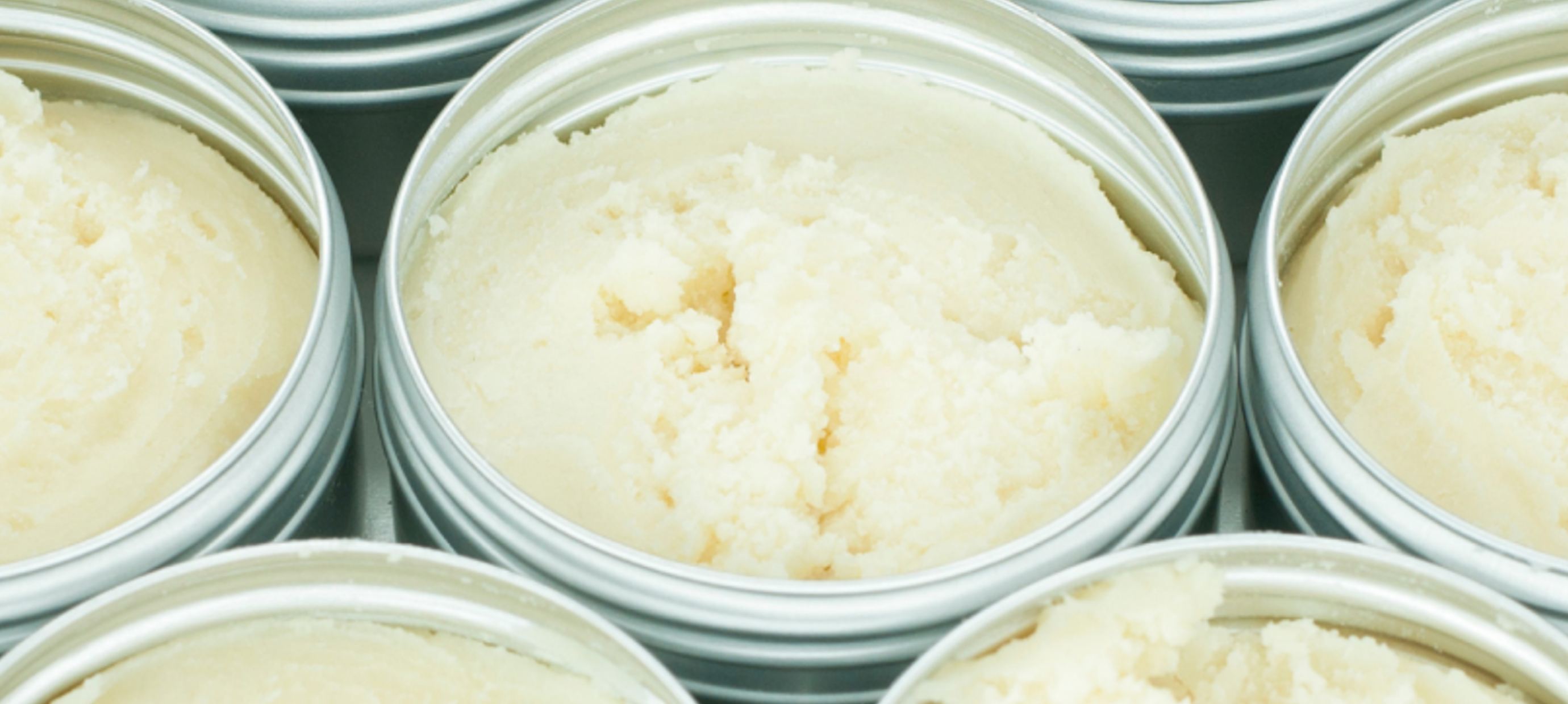 Shea Butter
What is Shea Butter?
Shea Butter is a vegetable fat extracted from the shea nuts of the shea tree. The shea tree grows in West Africa and other areas. Due to its long roots, the shea tree thrives very well in the dry climate. The economic value of the shea tree is high, so it is forbidden to cut it down. Due to its great economic value, the shea tree is also called the Tree of Life. There are even trees that are three hundred years old. The trees grow to a height of 15 meters, but only produce 1 kg of unrefined Shea Butter per year. This is due to the intensive processing.
Making Shea Butter
The Shea butter is made in an organically and economically-conscious manner by Dipalaya Women's Association Ghana. The nuts are harvested in the summer. After harvesting, the nuts are boiled, dried, then shelled and only the best seeds are ground. From this butter is churned. After boiling again, they strain the butter one last time, leaving unrefined Shea Butter. Due to this process, the Shea Butter will still smell slightly like the unpleasant scent of the Shea nuts. DIYS Soap's organic Shea Butter is responsibly made in Ghana. Because the scent of unrefined Shea Butter is perceived as unpleasant by many people, DIYS Soap has chosen to use refined (deodorized) Shea Butter.

Shea Butter Properties
Shea Butter contains vitamins A, D, E, F and has a mild antibacterial and anti-inflammatory effect. Shea Butter also moisturizes. This is ideal for chapped lips and feet. Dry hair and split-ends also benefit greatly from Shea Butter. Shea Butter has been used as natural sun protection for years. Due to its natural nature, it also helps with eczema, scars, stretch marks and small wounds and even minor burns. But it can even benefit people with rheumatic complaints or sore muscles. Because the melting point is around 37 degrees, the butter is easy to use in other products, but it has a solid form at room temperature. As soon as the butter comes into contact with the skin, it will melt. In a cold environment, you will first have to rub the butter gently in your hands. The released heat in combination with the Shea Butter is then a boon for your skin.
Shea Butter for the face
Due to the great natural properties of the Shea Butter, the Soap Bar Palmarosa is also suitable for cleaning your face. Since Shea Butter is difficult to spread in cold temperatures, DIYS Soap has also developed a Body Cream that is packed with organic Shea Butter. You can make the Body Cream yourself at home by beating all the ingredients with a mixer. This 100% natural, fresh body cream is very suitable for dry and sensitive (facial) skin.
Shea Butter can be used as a lip balm, hair conditioner or for dry patches on your skin. It is super handy to always have with you. The Organic Shea butter from DIYS Soap comes in a handy jar that fits easily in your bag.
DIY Avocado Oil Shea Hair Mask Recipe
This is a super moisturising hair mask. Great for frizzy and curly hair and a dry scalp! You can substitute with almond or argan oil if you prefer.

Ingredients: 2 tablespoons of Organic Shea Butter, 2 tablespoons of Avocado Oil, 5 drops of Rosemary Essential Oil (optional).
How to make: Pour the avocado oil into a small bowl or container. Melt the Shea Butter and slowly stir the Shea Butter into the avocado oil. Add the rosemary oil and mix well. Pour into a glass preserving jar and let it cool down.

Use the mix as a hair mask. Massage the Avocado Oil Shea Hair Mask into your hair and leave it on for 30 minutes. Then rinse well with plenty of warm water. Wash your hair afterwards if necessary with a mild natural shampoo.
What else can you use Shea Butter for?